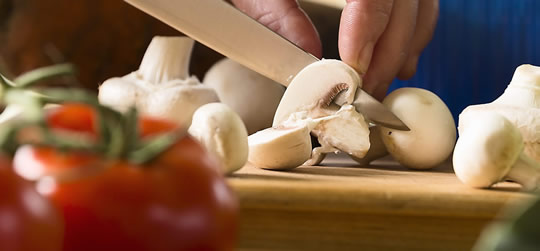 Fair Produce = fresh produce , produced in a fair way.
As a consumer, you want a product that has been produced in a fair way. Choosing for a Fair Produce product will provide you with maximum confidence that the employees of companies who produce and trade mushrooms are treated fairly. They receive a fair wage and work under good labour conditions.
Where can I buy the produce?
An increasing number of Dutch supermarkets are choosing for the Fair Produce product. Already, mushrooms produced in a fair way can be purchased at C1000, COOP, Lidl, Albert Heijn, Deen, SPAR, Jumbo, and Jan Linders. Not every supermarket has had the Fair Produce hallmark printed on the mushroom packagings. Please ask the supermarket staff for details.
Abroad
Underpayment, poor accommodation and bad labour conditions are not just issues that concern the Netherlands. Other European countries are also struggling with these. However, it is in the Netherlands that growers, dealers and unions have joined forces in the development of the Fair Produce hallmark. With this, the Netherlands has taken up a leading position in the world.
By supplying Dutch produce from certified companies, Fair Produce is contributing to the solution to a European problem. A major part of this Dutch produce is exported. That is why negotiations are currently taking place with retailers abroad. Soon, Dutch Fair Produce mushrooms should be for sale in foreign supermarkets as well.
New Fair Produce products
To date, only mushrooms have been given the Fair Produce hallmark. But this will shortly change. Currently, expansion is being prepared to include strawberries and asparagus.